Dengan Nama Allah yang Maha Pemurah lagi Maha Mengasihani
Assalamualaikum,
R
amai diantara kita yang telah mengunjungi Bali. Pulau Dewata bagi masyarakat Indonesia yang berugama hindu. Tetapi Bali bukanlah boleh dilengkapi dengan kunjungan

"beritirehat"

untuk beberapa hari kerana Bali banyak menyediakan tempat-tempat menarik yang wajar dikunjungi.

Pemandangan Pantai Amed diwaktu senja
Senja yang mendamaikan - Pantai Amed Bali
T
erkenal dengan kecantikan pantai pantai yang indah, kebudayaan yang pelbagai, chandi-chandi dan sebagainya. Pada paparan ini
Alung Bungalo

sengaja
ZBA
memaparkan aktiviti yang jarang-jarang kita lihat secara
"live"
kecuali ditempat-tempat tertentu. Ramai diantara kita yang tidak tahu malah 85% daripada kita hanya berada disekitar Pantai Peranginan Kuta yang terkenal.
Perahu
Paling jauh mungkin pantai pantai seperti, Samur, Benoa, Nusa Dua dan Senggigi. Tetapi jarang yang mengelilingi dan mengenali secara lebih dekat Bali dalam erti kata sebenarnya.
Z
BA
pernah membuat satu pusingan kepulauan Bali. Dari Gillimanuk, Negara Tabanan, Denpasar NusaDua. Ngurah Rai, Sanur Klungkung, Amlapura Kubutambahan, Singaraja. Lovina, Baturiti, Mengwi, Badung dan kembali ke Denpasar. Apa yang menarik dan menjadi tajuk kepada artikal ini ialah
"Hunting Flying Dolphins".
The beaches of Lovina may not be the prettiest in Bali, Indonesia. But what they lack in beach beauty, they make up in gorgeous sunrises and pods of dolphins swimming freely in the wild.
We rose at the butt
I am ready to Bang, Bang !!!
crack of dawn hoping to be one of the first ones out in the open water. The morning was cool, calm and it didn't take long for the other boats to arrive before the sun peaked over the horizon in shades of orange and yellow and red.
It didn't take long for our skipper to steer away from the crowd. We had a bit of the sea to ourselves. And then it happened, our first fin and sighting.
I've seen plenty of dolphins before but there's just something magical about seeing them in the wild, in their natural habitat that's just so exciting. Before we knew it, dolphins were popping up and down, left and right.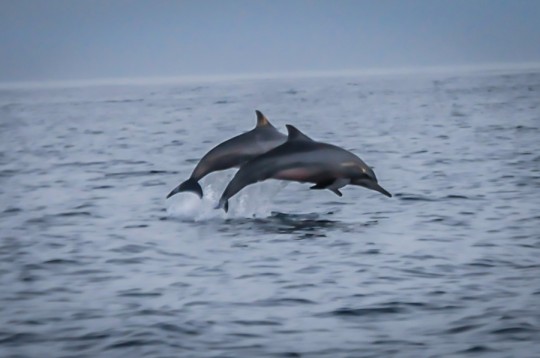 You don't really need a lot of patience to spot a dolphin. But if you want to capture it on camera, having one that allows you to shoot on continuous is important
because they are fast. We had trouble getting a good photo until switched over to continuous mode. And, of the 50+ shots we took, we left with a handful of decent shots.
Satisfied with that, we put our cameras down and simply basked in the gorgeous sunrise overlooking Lovina Beach with a few dolphins skipping along the horizon.
So there is a bit of controversy whether the large number of boats harm the dolphins. I had my reservations at first because there seems to be a lot of boats in the water.
Without getting all political, here's my quick two cents from what I've witnessed: the boats generally kept a safe distance allowing the dolphins to swim freely. Our skipper would either slow down or turn off the engine as soon as the dolphins were in sight. No bait was thrown in the water to lure the dolphins closer, and the dolphins genuinely seem like they were having a good time too.. chasing the sunrise.
Morning rose and the dolphins seem to dwindle in number. We spent a total of 2 hrs at sea before heading back in time for banana pancakes and mango shakes. A great way to start the day.
Chasing time !!!!!!
S

ebenarnya trip ini

merupakan trip yang tidak mejanjikan

"happy ending atau satifaction"

kerana semua bergantung kepada

nasib dan beberapa faktor yang tidak dijangka seperti cuaca dan kedatangan dolphin pada masa-masa tertentu. Sumber daripada

pemandu perahu adalah positif dan tidak mengecewakan setiap pengunjung yang datang setakat ini.
Trip ini bermula seawal jam 06.00 pagi dan tempahan boleh dilakukan dimana-mana hotel penginapan. Bayaran yang dikenakan ialah Rp 100,000 seorang

termasuk hotel pick-up. W

alau bagaimana pun

ZBA

memberi cadangan agar berurusan dengan

"Ayu Sari Boat"

dengan menghubungi

Pak Made Swela di talian

Hp. 087 762 813 657. Beliau menawarkan harga terbaik Rp 75,000

seorang dengan janji

"hingga ketemu dan berpuas hati"

sebelum pulang.

Ini adalah trip peribadi yang lebih jimat serta pembaca dijanjikan dengan kepuasan sepanjang menjejaki kumpulan dolphins.
P

enginapan terbaik, murah dan terletak 50m sahaja daripada pantai ialah di

Villa Jaya, Jalan Mawar, Kalibukbuk. Kadar semalaman ialah Rp 250,000

dengan sarapan pagi.

Untuk

makluman, sajian halal adalah agak sukar didapati di Lovina kecuali gerai-gerai kecil yang menyediakan masakan tempatan. Pembaca dinasihat ke Singaraja (2km) untuk mendapatkan makanan yang lebih baik dengan kepelbagaian makanan mengikut citarasa masing-masing.
Secara peribadi, pembaca dinasihatkan agar berada sekurang-kurangnya satu malam di Lovina Beach untuk tujuan ini. Sungguhpun jarak daripada Denpasar ke Lovina hanya sekitar 96km tetapi masa perjalanan akan mengambil masa kurang lebih 4J perjalanan. Cara terbaik ialah dengan penyewaan termurah "Suzuki Katana", Rp 100,000 sehari tanpa petrol. Harga pertol premium di Indonesia ialah Rp 7,400 perliter. Tempahan : +62 361 7432921 atau Mobile : +62 8123986612, Pak Ketut.
ENJOY BALI PARADISE ISLAND